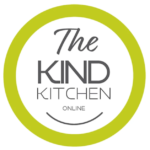 Jason McNamara, alias Jay Mac, vegan advocate and chef is the founder of "The Kind Kitchen" in Cape Town, South Africa. Jay has travelled to Austin Texas in 2013 where he gained his skills in vegan culinary arts at The Natural Epicurean Academy of Culinary Arts under the tutelage of Chef Inge Bothma.
Jay is also known as a film director, more specifically for the Jivamukti Yoga documentary "What is real". Last but not least, Jay is an Advanced Certified Jivamukti Yoga teacher.
Dry ingredients
2 cups vital wheat gluten

1/4 cup nutritional yeast

1 teaspoon salt

1 teaspoon smoked paprika

1/2 teaspoon onion powder

1/2 teaspoon garlic powder
Wet ingredients
1/2 cup vegetable broth

1/4 cup vegetable oil

1/4 cup soya sauce

1/4 cup syrup

2 TBS liquid smoke

2 TBS ketchup
Glaze
1 tablespoon syrup

1-1/2 teaspoons liquid smoke

1-1/2 teaspoons coarsely ground black pepper

1 teaspoon salt
Method
Preheat the oven to 180°C/355°F. 

In a large bowl, combine the dry ingredients.

In a separate bowl, whisk the wet ingredients.

Pour the wet ingredients into the dry ingredients, and stir with a wooden spoon until they are combined.

Use your hands to knead the dough until it is smooth and uniform. Shape it into a small loaf, and place in tin foil. 

In a medium bowl, whisk together glaze ingredients.

Pour the glaze over the seitan loaf, and rub it in with your hands.

Carefully seal the foil all around the loaf, ensuring that there are no areas where the glaze will leak.

Bake the seitan for 30-50 minutes (time depends on the oven). Make sure the edges don't go crispy or get burnt. Then remove it from the oven and let it cool overnight.

Cut into bacon rashers strips.

Yields 20-30 slices of about 10g slices
Ingredients
1 Avocado

1 lime

1 tsp onion powder 

1/2 tsp garlic powder

1/2 tsp saltfile:///C:/Users/jja/Documents/CLIENTS/exhale%20Yoga/publishing/wordpress/2020_ONLINE_logo_Page_1_294175a0-beff-4030-826e-7e6418ef5aff.webp

Pinch of black pepper 

1 TBSP nutritional yeast

Small handful of chopped coriander
Method
Place all ingredients into a blender and blend until smooth.

Add more lime or salt and pepper to taste.

If you prefer a chunky guacamole then rather place all ingredients into a bowl to smash and mix together with a fork.

Place in a storage container with an avo seed to avoid browning.
Ingredients
1 Cup soaked cashews (overnight)

1½ – 2 Cups water

¼ cup Nutritional Yeast

½ Tsp salt

1 Tbsp onion powder

½ tbsp garlic powder

1 TBSP juice of a lemon / lime

Pepper to taste if you'd like
Method
If the cashews haven't been soaked overnight then place in boiled water for 15-20min to soak.

Place all ingredients into a blender and blend to a smooth liquid.

Add more salt, pepper or lemon to taste.
Omelette ingredients
Yields 4
1 Cup chickpea / pea flour

1 Cup tapioca starch

1 tsp turmeric powder

1 tsp nutritional yeast

1 tsp black salt

1 tsp baking powder

2 Cups water

Pepper to taste
Filling Ingredients per Omelette
100g Mushrooms of choice, diced

Vegetable oil of choice

1 TBSP Red Onions, diced

1 lemon 

1 Tsp garlic, minced

Handful of chopped baby spinach

Handful of vegan cheese grated

Basil Pesto and sprouts to serve. Add a slice of GF Essen bread or Toast of choice
Method
Place all

omelette

ingredients into a blender and blend until smooth. Set aside.

Heat a pan, on medium high, with a small amount of oil.

Add mushrooms and onion to heat and allow to brown, add a touch of lemon juice to slightly caramelize onions, 3-5min.

Once onions are semi-translucent add garlic and baby spinach and allow to wilt.

Add a touch of salt and pepper, remove from heat and set to the side with the lid on to allow spinach mixture to wilt further.

Place a non stick pan on heat and add a touch of oil, making sure to coat the whole pan for the omelette mixture.

Use a ⅓ cup measure and pour omelette mix into a heated pan. Move liquid around the pan to fill the whole surface.

Lower to a medium to low heat, once you see small bubbles form, you can use a spatula to flip your omelette.

Add your filling ingredients to one half of the omelette, cover with cheese and flip the other half over to cheese to close your omelete. 

Turn off heat and place a lid over it for a minute to allow the cheese to melt.

Plate and serve with pesto and microgreens/sprouts and toast if desired
Notes: Your omelette fillings are only limited by your imagination now. Replace chickpea flour for Pea or Mung flour.
Tofu Scramble Ingredients
Yields 2
350g extra firm Tofu

1 tsp Turmeric Powder

1 tsp Black salt

½ Coriander powder

1 TBSP Nutritional yeast
Filling Ingredients
1 Cup cashew cream, recipe above

½ Cup Quinoa, cooked

½ Cup Black Beans, cooked

1 Avocado, sliced

4 Rashers seitan bacon, recipe above

30ml oil of choice

30ml braggs tamari / worcester sauce / soya / coconut aminos

50g Vegan cheddar, grated, optional

2x Large burrito wraps / GF wraps of choice

Sprouts to serve
Method
Using a fork or your hands, break tofu into a large bowl and scramble until the desired texture is achieved.

Add turmeric, black salt, coriander powder and nutritional yeast to the tofu and mix together. 

Heat a large skillet and heat your wraps up. About 30seconds each side. Set them aside and cover with a plate to keep them warm.

Now heta the same skillet with half the oil and add your tofu. Allow it to cook on a medium to high heat. Add small amounts of cashew cream to achieve a creamy texture with your scramble as you continue to stir.

In a separate pan, add the remaining oil and bring to heat and turn each side with a small amount of your tamari on each side. Careful not to overcook your seitan bacon otherwise it will become very crispy, unless that's the effect you want.

Now assemble your deluxe wrap with cheese, half your quinoa, half beans, half tofu scramble, 2 rashers of bacon and avo.

Place your wrap in a sandwich press/skillet for a bit to chargrill and allow the cheese to melt.

Cut in half and serve with remaining cashew cream and sprouts of choice.
Ingredients
1kg washed beetroot, cut into small cubes.

1 Large cucumber cut into long strips.

1 Medium sized pineapple, skin removed fruit cut into cubes.

50g Ginger, skin removed with peeler and cut into 4 pieces.

Optional: add 5-10g fresh mint and ¼ Flaxseed oil.

Replace pineapple with 4 lemons.

Optional: add 50g fresh turmeric root.
Method
Using a cold pressed juicer, juice the beetroot only. Keep the pulp to make the next recipe of Beetroot Falafels.

Juice the remaining ingredients and mix all your liquid together. Strain through a sieve to digard extra pulp. Add Flax oil for an extra Omega boost.
Notes
If you don't have a juicer then place your beetroot into a blender with enough water to cover the beetroot pieces. Blend until mixed well and pour through a sieve to separate pulp from juice.

Repeat with remaining ingredients.

Keep beetroot pulp for your next recipe below.
Ingredients
Yields 20-24 TBSP sized falafels
2 Cups chickpea / pea flour.

2 tsp paprika

2 tsp nutritional yeast

2 tsp fresh mixed herbs (parsley, rosemary and basil) /

dry ingredients will also work

2 tsp cumin powder

1 tsp salt

Pepper to taste

2 Cups beetroot pulp from recipe above.

½ Cup beetroot juice (to be used as additional liquid if your recipe is too dry)
Salad Ingredients
Yields salad for 4
ds salad for 4
100g Rocket / Arugula or seasonal mixed leaves

1 Cup Cashew Cream (Recipe above) add ¼ cup Tahini for dressing

1 Cup Cooked quinoa

1 Avocado sliced

1 lemon sliced in quarters

½ Large cucumber spiralized or chopped

100g seasonal Cherry tomatoes, chopped

Optional: 50g Violife vegan mediterean style feta, cubed 

Oil to fry falafels, suggest 4 per person

Sprouts/mixed seeds to serve
Method
Sieve your flour to remove any lumps.

Add your spices to your flour and mix well with a spoon.

Add your beetroot pulp and mix well with flour and species. Add a bit of beetroot juice if required. Your mixture should be fairly dry and shouldn't be sloppy. 

Add more flour or liquid to achieve a dry mixture.

Allow to cool in the fridge for 30min.

Prepare a pot of oil to fry your falafels. Fry in oil or in an air fryer until a crisp shell forms, 3-5min with oil at 180C/350F. Place on a paper towel to drain excess oil, drizzle with lemon.

Assemble your salad with rocket at the base followed by quinoa, tomatoes, falafels, avo and cheese. 

Drizzle with Tahini Cashew cream and top with sprouts.
Notes: Serve with warm pita breads / gyros / wraps for people to make their own.
Tuna Meat Ingredients
Yields 4 servings
400g Tempeh, steamed

1 Cup Vegan Mayo

60ml Dijon mustard

20g Fresh Dill

20g Fresh Chives / Red Onion

3 Sheets nori / kelp / seaweed flakes

50-60g Caperberries, less if you require less saltiness

60ml Lemon juice

White pepper powder to taste

100g Gherkins, chopped

4 celery stalks, chopped
Wrap / Salad Ingredients
1 Corn Cob, raw, washed and cut of the cob

50g Rainbow carrots, grated

200g Cherry tomatoes, chopped

1 Nori sheet / kelp / seaweed flakes

Sprouts to serve

1 pack Mixed leaf lettuce / greens of choice

4 Wraps of choice / Bread of Choice

Fresh Dill to garnish
Flax Oil Dressing
Mix all ingredients together in a jar and shake well
½ Cup Flax seed oil

½ Cup Apple cider vinegar / Vinegar of choice

1 TBSP Nutritional Yeast

1 TBSP Dijon / Wholegrain mustard

Salt and Pepper to taste
Method
Steam tempeh for 10min and set aside to cool.

Place mayo, mustard, herbs,nori, caperberries, lemon juice into a blender and blend until smooth. Taste and add pepper to taste.

Finely dice gherkins and celery stalks and place into a large serve bowl and add the mayo mixture.

Use a fork and smash the tempeh into chunky tuna style pieces and add to mayo mix.

Build your salad by placing greens at the base and building it up with tuna mix, tomatoes, corn and grated carrots. Finish with more crumbed nori and sprouts.
Notes
Use large cos lettuce/cabbage pieces as edible salad bowls.

Use your tuna mix without salad ingredients to make a tuna melt with vegan cheese.

Wrap your tuna in Nori and rice to make edo rolls or sushi.   
Ingredients
Yields 2 servings
400g Fresh Mixed baby Tomatoes, Rosa/Plum etc.

1 Red onion, skinned and quartered

2 Large carrots, chopped

2 Garlic cloves

30g Mixed fresh herbs, Basil, Oregano & Thyme

1 Cup quinoa

1 Cup brown lentils

500ml cup vegetable broth

1 / 2 TBSP Tomato paste

1 TBSP Balsamic vinegar / lemon juice

500g Spaghetti of choice

60ml Olive Oil

Salt and pepper to taste

Nutritional yeast / cashew cream to garnish
Method
Place tomatoes into a baking tray with onions, carrots, garlic, 30ml oil and salt and pepper. Keep garlic in their shells to cook. 

Place in a heated oven on grill to roast for 10-20min, until tomatoes skins start to peel away and are slightly browned. Keep stirring and checking on them as time will vary according to the oven.

Meanwhile, bring the lentils to a boil in a large pot for 20min, then add the quinoa. Add more veg broth if required.

Remove the roasted tomato mix  from the oven and place into a blender. Remove garlic from their skins before adding to the blender. Now blend them all together with half the herbs and tomato paste.

Meanwhile, add the Napoletana style sauce you just blended, to the quinoa and lentil mix. This will become the mince style base of your pasta. Bring to a boil and then allow to simmer on low heat for another 20min

Bring another pot to boil with water and add remaining oil and a sprinkle of salt. Add the spaghetti when the water comes to a rolling boil. Remove from heat and drain when al dente. Pour cold water over the pasta to stop the cooking process.

Plate your pasta and top with your warm Napoletana mince sauce.

Serve with a small handful of remaining chopped herbs and top with either Nutritional yeast for a parmesan style flavour or Cashew cream for a creamier pasta.
Notes
Grate raw broccoli over the pasta for another healthier alternative with greens.

Add fresh green chillies to the blender if you require an Arabiatta style sauce.

Add roasted aubergines and mushrooms for another great protein alternative.
Ingredients
Yields 4 servings
2 Cans of Jackfruit in brine

1 red onion diced

1 TBSP mixed spices of smoked paprika and cumin powder

1-2 cloves garlic diced

50g ginger, skinned and grated

4x Raw Sweet corn, skinned

3 litres / 1 Gallon vegetable chicken broth

1-2 TBSP Tamari

100g purple cabbage, diced

10g scallions, diced

10g coriander, chopped

Veg oil of choice

2-4 Limes

1 Pack rice noodles of choice

Sprouts to garnish, such as mung sprouts

2 clean dishcloths and rolling pin

Add fresh chilli for more spice and coconut milk for a creamier soup
Method
Drain the cans of Jackfruit. Keep the liquid to the side. Now place the drained Jackfruit into a dishcloth, tighten and squeeze remaining brine out. Place onto a chopping board and smash the Jackfruit inside the cloth using the rolling pin. Do this to achieve tender strands of chicken-like pieces for your soup.

Heat a large pot with 1 TBSP of oil and saute onions, using small amounts of drained brine liquid to avoid burning onions. Cook for about 5min until translucent.

Add the garlic and ginger to onions on high heat with half of the corn and Jackfruit to saute and brown. 

Once the mixture is sauteed, add the paprika/cumin mix and squeeze 1 lime to the mix. Stir well to combine. 

Add the broth to the mixture and bring to a boil. Then simmer to reduce for 40min.

Meanwhile, heat a pan to high with oil and add the remaining corn. Allow to sautee with Tamari and another lime. This will add another great umami to your soup.

Place your noodles into a large bowl and cover with boiled water until cooked through, you can also add it directly to the soup mix if you prefer.

To serve, dish at least 500ml/15Oz soup to each bowl with a handful of cabbage, 1-2 TBS sauteed corn, a sprinkle of scallions and coriander. 

Garnish with sprouts.

Season with salt and pepper to taste, a touch of oil and fresh lime juice.