Isabelle Thill
Founder of Exhale Yoga Luxembourg
Although I am grateful to have been born in the perfect bubble which is Luxembourg, I have always been passionate about traveling to discover new cultures and explore the diversity of yoga styles.
Long before becoming a teacher myself, yoga was an essential part of my life. My very first teachers were Denise Pesch and Fredric Bender from Yoga La Source in Luxembourg and they both had a strong influence on me choosing the path of yoga. In 2004, I met Michael Hamilton, a South African Ashtanga yoga teacher, in Shanghai and he inspired me to take the next step and to enroll for the Sivananda Yoga Teacher's training in India. Years later I received my certification as a Jivamukti Yoga teacher in New York.
After countless workshops, retreats, and teacher trainings, I am still under the spell of yoga. I am thankful for the precious tool of yoga, which saved my life more than once and makes me constantly grow. Diving deeper into the physical as well as the spiritual yoga practice is a never ending journey.
I have been blessed to meet the most incredible and inspiring mentors, all of them influenced my own teaching enormously.
Rolf Naujokat, who keeps my first love, Ashtanga yoga, alive. Dechen Thurman and Anja Kühnel, both vegan activists, introduced and awakened my love for Jivamukti Yoga. I bow down with gratitude to the founders of this method, Sharon Gannon and David Life. Cameron Shayne, creator of Budokon, taught me how to cultivate my inner warrior, to be fearless and take accountability for my acts. Duncan Wong, the most fabulous martial artist and yogi, showed me how to overcome my own limiting thoughts and believes to aim for the stars.
I discovered Vipassana meditation in South Africa and it became part of my daily routine.
After many years of having been a freelance yoga instructor, I created my first studio, yogaroom belair, in 2008, followed by yogaloft luxembourg in 2012. In 2016, I moved to Capetown, where I founded Exhale Yoga, a Jivamukti Yoga affiliated studio. During the years in South Africa, I set up Inhale Yoga, promoting selfless service, with a main goal to introduce yoga in local communities. I will keep the same spirit at Exhale Yoga Luxembourg and teach yoga classes on donations.
In 2020, I became resident teacher at the Jivamukti school in Paris.
The current health crises brought me back to my home country, where I created a new studio, Exhale Yoga, at my old address in Luxembourg-Merl. I hope to be able soon to continue organizing yoga retreats in India, South Africa and Provence. Capetown will always stay my second home, it keeps me humble.
Yoga gives me the courage to BE MY SELF and the strength to make the world a better place. There are no words to express my gratitude towards my two grown up children, who remain my most important teachers and all the committed yoga practitioners who crossed my path.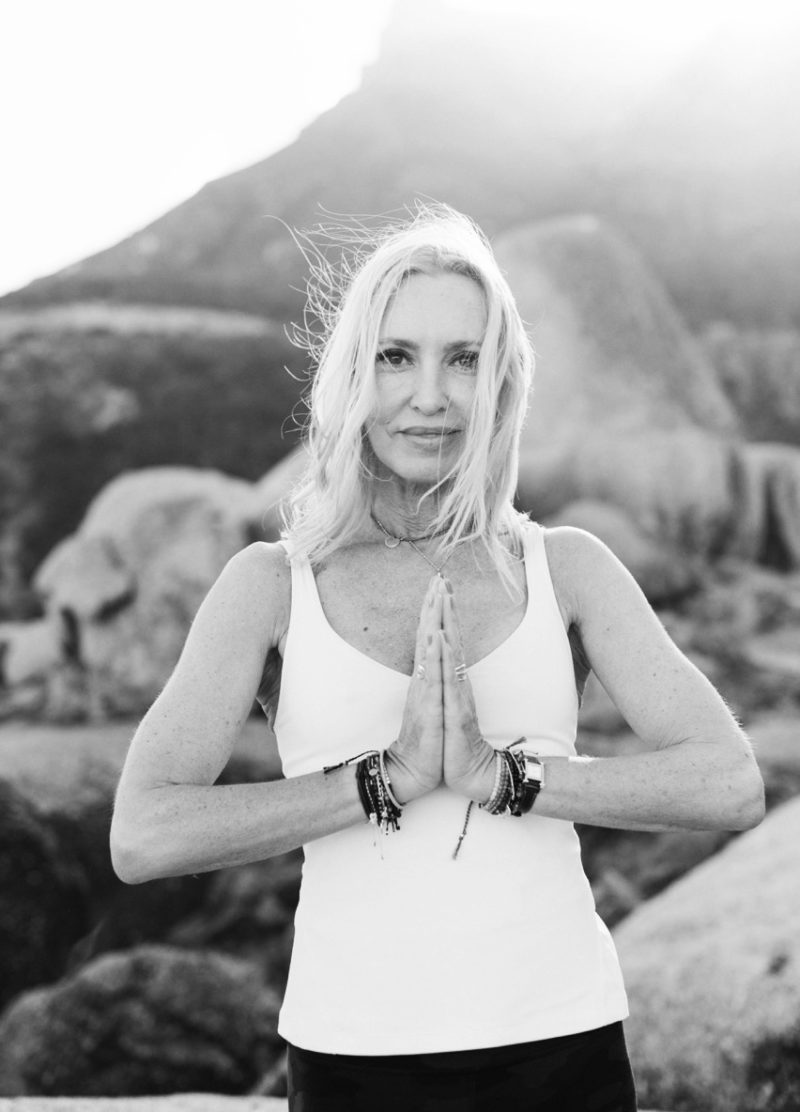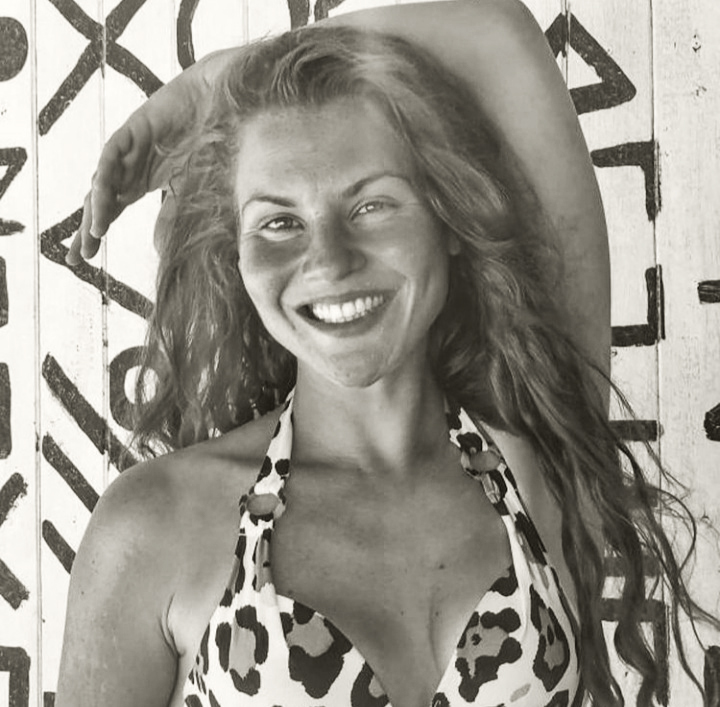 Véronique Scheer
Véronique Scheer is a certified Yoga teacher, aerial Yoga and prenatal Yoga teacher, as well as a Fitness, Dance, and Barre instructor.
She was lead teacher at House of Yoga Luxembourg, as well as Grace Yoga Luxembourg and she was part of the Amansala Yoga Resort Team in Tulum, Mexico.
She is quite known for her dynamic and creative Vinyasa flows, as well as for her restorative Yin Yoga.
Her style is a blend of traditional eastern Yogic wisdom with a western approach.
Each and every class is different in methodology, theme and center of gravity.
She is known for keeping you on your toes with a big a smile on your face.
She will guide you by combining her hands-on adjustments with a mix of Sanskrit wisdom, spicey flows,  burning thighs, a pinch of spirituality and a big chunk of fun.
She will fuse your body, mind and spirit into one through breathwork (Pranayama), along with meditation and her personal interpretation of the eight limbs of yoga, coupled with the balancing of the chakras.
Véronique is fluent in English, French, German, Luxembourgish and Spanish.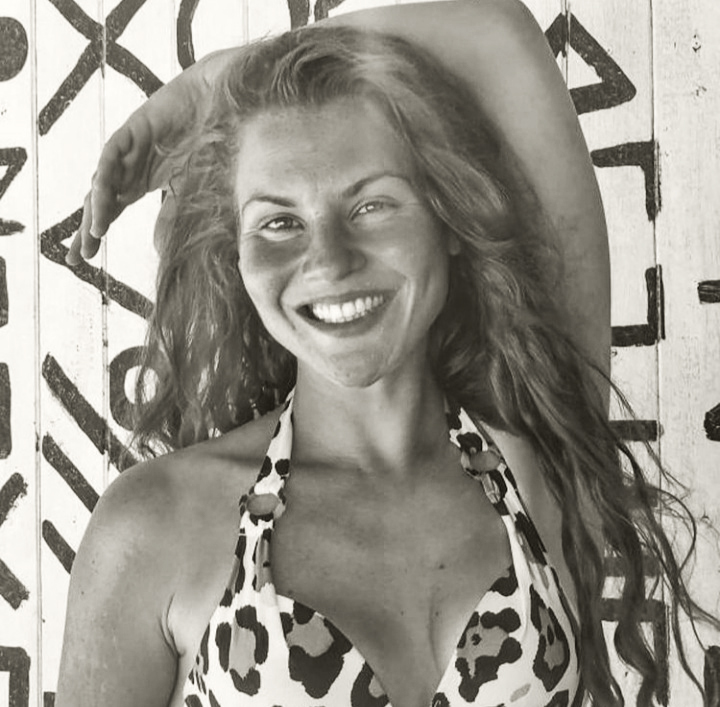 Nicole Olenskaia
Nicole Olenskaia, is a 200H Hatha Yoga and Meditation guide. Taking her roots from dancing and gymnastics, Nicole explores the practice of yoga by intuitive sequencing with the purpose of giving freedom, inspiration and methods of understanding your own mind-body connection by creating a dialogue between both. The main goal of her practice is to gain knowledge about the art and practice of yoga and meditation and to be able to witness the echoes of the practice not only on the mat, but further beyond."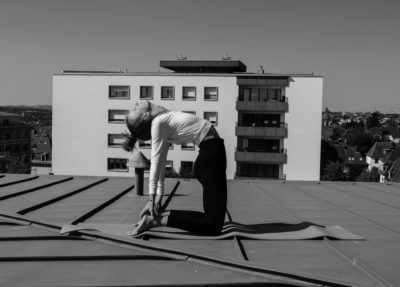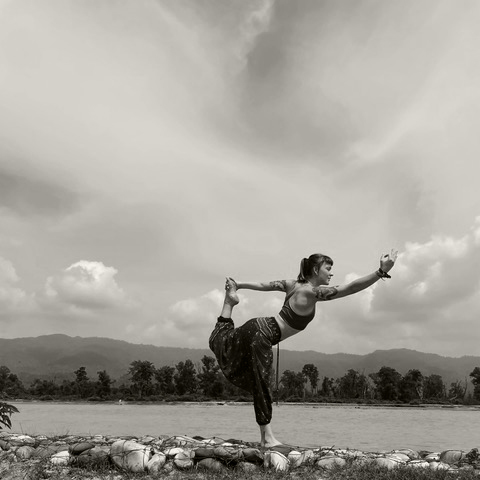 Natasha Sabus
I first discovered Yoga in its physical form during times in which I was trying to overcome one of the most challenging phases in terms of my mental health. For the first time ever, I found myself able to disconnect from all the negative energy and thoughts that were subconsciously distracting me on a daily basis, while shifting my attention to what really needed it the most; myself. Regular asana practicing has taught me to love, appreciate and most importantly to know my body. Yoga takes you into the present moment, the only place where life exists.
After one year of self-practice, I gathered the courage to attend my first group classes at Exhale Yoga Studio, where Isabelle inspired and helped me to find love and passion for the physical, mental and spiritual practice of Yoga. Soon after, it became an essential part of my every-day life and I learned that Yoga is not just a physical workout, but a lifestyle.
To this day, the Yogic lifestyle has been bringing me nothing but blessings, immense gratitude and wonderful connections from all around the world.
The 200 hour YTT I completed in India this Summer (2022) has been the best experience in my life so far, where I have learnt the most authentic teachings and knowledge about Yoga from the most inspiring teachers. But no matter how many YTT's I will complete in this life, I will never stop learning and growing.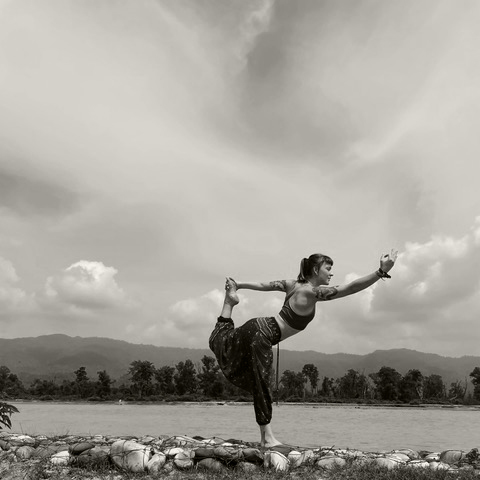 Stéphanie Cunico
Formation Yoga pour Trauma (trauma informed yoga)
Mars 2021 – En ligne
Formation 300h Jivamukti Yoga
Février 2020 – Inde
Formation de yoga avec Petros Haffenrichter
Novembre 2018
Mars 2020–Mars 2022
Ouverture puis gestion d'un studio de yoga de 420m2 à Paris avec café végane et boutique. Fidélisation des élèves, mise en place du planning, de l'offre boutique et café, comptabilité, organisation d'évènements.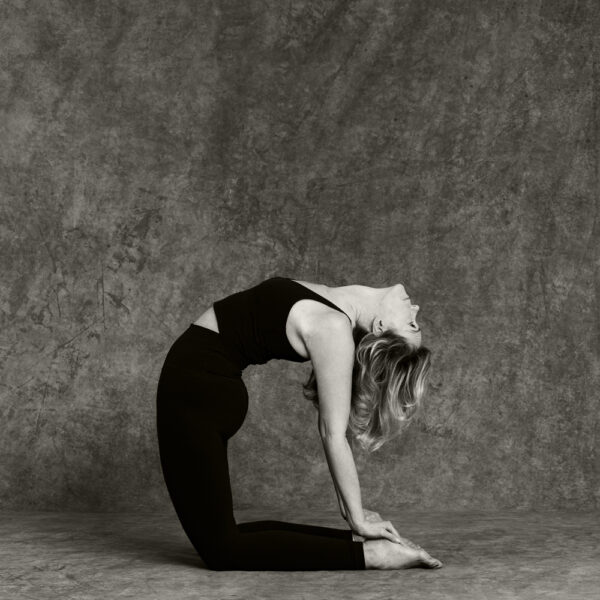 Nathalie GINTER
To the question why I have been practicing Yoga for over twenty-five years, the answer is that Yoga represents for me a safe space and security. No matter what the outer conditions are, Yoga offers me a way to stay centered through the tumults of life. Yoga permits me to still my mind, to align my body, to reconnect to myself. It makes me push my boundaries, physically and emotionally. I find strength in the postures, balance within myself and lightness in my heart. I have the impression that Yoga has always been there. It has never been a trendy activity for me. Wherever I have been on the planet, the way somehow always led me back on to my mat and I had to face myself. I'm so grateful for all the teachers I have met. I have always learned something.
The ones who inspired me the most are the ones who reflected stability and true self-confidence. They passed on a message that was beyond the physical exercise of asanas and beyond verbal comprehension. They encouraged me to find an authentic connection to myself. I learned to love more intensely: expanding rather than contracting when faced with adversity.
I am happy to keep on learning in order to pass on what Yoga gave me and with humility I would like to share this wonderful experience. My classes should be an invitation to indulgence, softness and strength, confidence and humility, balance and movement, grounding and lifting, control and non-attachment.
"Lokah samasta sukhino bhavantu"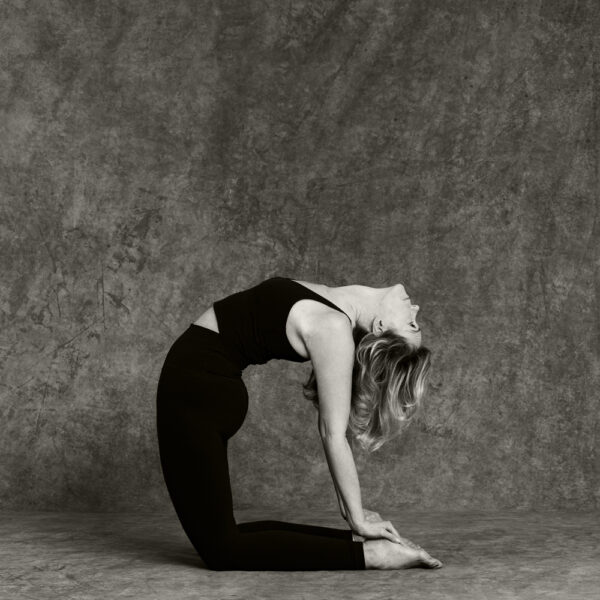 Maya Philippe
After a long career within the financial sector, Maya quitted her job in 2015, and made her dream come true. In summer 2016, she opened Flowers Kitchen, a cozy, vegan café in the "Gare" area where she offered "home-made with love" plant-based dishes, pastries, fresh squeezed juices and organic coffee and tea.
The success of the concept was immediate and allowed her to open a second spot in 2018. Due to Covid-19 and personal reasons she decided to stop her activity in 2021. However, she is still in touch with her beloved Flowers Kitchen community and tries to share, as often as she can, yummy recipes and pictures of her food on social media.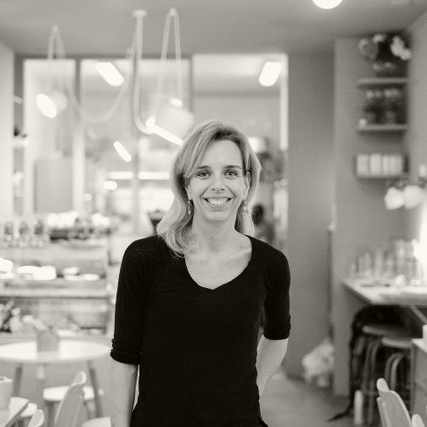 Nadine Dupont
My Yoga journey started over 10 years ago, as I was curious to discover and explore this ancient holistic Indian practice due to my travels in South East Asia, especially India where I was blessed to see and learn about wonderful places, diverse cultures and beautiful minds and people.
At the beginning I attended different yoga style classes and workshops more sporadically, during travelling or in my hometown. With more regular practice, I was fascinated to feel rising the connection between the body, the mind, the breath and the spirit . The physical, spiritual and mystical aspects of yoga and the benefits gained helped me embracing a true transforming self-journey, establishing more inner peace, balance and compassion, incorporating meditation practices and chanting, growing physically and mentally strength. Yoga turned in a way of life which inspires me every day until now to live in the present moment. Honoring my breathing and bringing my focus and awareness to a conscious mindful breath. The real impact of yoga practice starts the moment I leave my mat and experience how positively it challenges my life purpose, leading me to new paths. In 2017 I was introduced to Jivamukti Yoga and was enthusiastic about the method including setting intentions, a strong physical dynamic practice with music, beautifully integrated with ancient yogic wisdom texts, mantras chanting, meditation and spiritual teachings. In 2018 I completed my first 200-hour Hatha Yoga Alliance Teacher Training in Indonesia with East and West. In early 2019 I completed my 300-hour Jivamukti Teacher Training at Govardhan Eco Village in India. Followed by the 800-hour Apprenticeship Program with my Mentor Magali Lehners . In 2020 I completed my 50-hour Yin Yoga & Meridians Yoga Alliance Teacher Training with Annie Au Yoga. I will always be a student of the practice and deeply grateful for the inspiring knowledge and loving wisdom my teachers have shared with me. In my classes, I take care of the specific needs of each student, guiding them and bringing their awareness into the conscious breath in harmony with the movement and proper alignment. I inspire and motivate all my students to support each other, feeling grounded and connected with themselves, creating space within the mind and body to release tension and inviting joy, peace, happiness, physical well-being, strength and an open heart. My intention is to allow them to carry all the sensations, learnings and insights experienced on the mat off the mat into daily life, leading to new opportunities and visions to grow emotionally, mentally and spiritually. Simply live life more beautifully.
Veronica Codoni
Veronica completed her Jivamukti Yoga 300-Hour Teacher Training in 2020 in India with Rima Rabbath, Jules Febre and Martyna Eder. Currently she is leading her 500-Hour Apprenticeship Program with Magali Lehners at Jivamukti Yoga Luxembourg.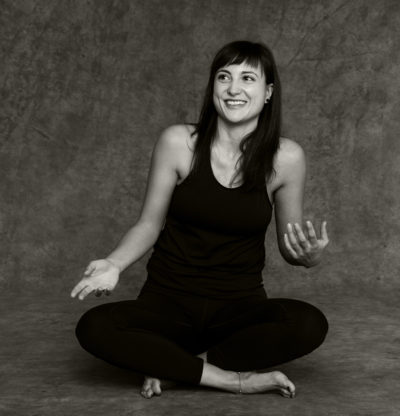 Josefine Olsen
I went to my first yoga class in 2002 in a basement of London's Covent Garden.
A weekly class of Ashtanga yoga did what medicine couldn't do to relieve the regular migraine attacks that I was suffering from at the time. Eventually the migraines disappeared altogether and have not been back since but yoga remained part of my life.
Throughout the years I have tried a variety of styles from Kundalini to Hatha to Bikram and Jivamukti as well as others in between. While they may be different in practice style they all share this element of having a healing effect on the body and mind through the focus on movement with the breath. Ashtanga remains my foundation and it is what I always come back to: it helps me to stay grounded.
It is fascinating to observe how through focus and breath the seemingly impossible becomes possible. Yoga is about the mind as much as the body and is accessible to everyone no matter age, shape or physical limitations.
Om bhūr bhuvaḥ svaḥ
tat savitur vareṇyaṃ
bhargo devasya dhīmahi
dhiyo yo naḥ prachodayāt